Fashion and Music fit together like Beyoncé and a beat. From Jimi Hendrix's rockstar floral print to NWA's pro sports-influenced Californian streetwear, the influence of music on fashion is as well established as the wetness of water. But the icons we look to are far more fluid. The team at Lyst and I have put our heads together to run through some of our top musicians who've made their mark on the way we dress. Update your wardrobe with some of the current pieces on Lyst that take inspiration for their styles.
My List for Lyst

Solange Knowles
She's one of the pack leaders of the "carefree black girl" aesthetic, and I love her penchant for both head-to-toe solid colours as whimsical prints. Solange is also one of the mainstream women who proves that afros and braids are just as chic as they are statement hairstyle options.
Solange Knowles // Sacai Geometric Print Dress
Eddie Vedder
Love or loathe it, there's no denying the enduring and recurring power of the grunge look taken from it's namesake rock sound. A personal '90s crush and and one of the godfathers of both the sound and look, Eddie Vedder typifies the look that inspired so many, from the streets to the runways.
Eddie Vedder // Isabel Marant Plaid Shirt
Diana Ross
Before Queen B, there was Queen D. Effortless glam was a phrase created for the former Supreme (not to mention dancer, actress, and designer), Diana Ross. Who else could prove that, yes, evening gowns or gold lamé is definitely daywear with zero irony needed?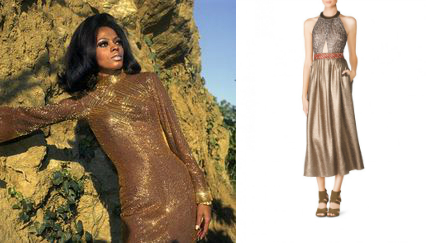 Diana Ross // Tamara Melon Halter Dress

Stevie Nicks
The high priestess of ethereal bohemian style continues to inspire generations of festival goers. Fleetwood Mac's frontwoman trademark vocals and free spirit attitude are as unmistakable as her style has been her calling card for nearly five decades.
 Stevie Nicks // Thakoon Chiffon Midi Dress
Kanye West (pre-Yeezus)
Kanye channeled his literal status and album title College Dropout with his preppy take on hip hop style. Ralph Lauren is a fan (their feelings are mutual), and a legion of preppy hip hop heads felt validated as Kanye turned his preppy university days into his style calling card. These days, the quirks and confidence of his sartorial choices reflect the unabashed boldness of his more recent bars and beats.
Kanye West // Rag and Bone Polo Top
Lyst's List

Karen O
Karen O pushes boundaries. From her screaming vocals in the Yeah Yeah Yeahs to the reams of outlandish outfits she's stomped across the world's stages. Designer and BFF Christian Joy dresses the Korean-Polish goddess in costumes that few could pull off. Top of the list are her collection of futuristic capes and skin-tight leotards. Nowadays she's likely to be seen in a studded leather jacket, sporting her boldest look yet: a pregnancy bump.
Karen O and her baby bump  // French Connection Studded Leather Jacket
David Bowie
Fashion's favourite chameleon, David Bowie, has changed his style more than any other male musician in history. The most memorable persona of Bowie's is the iconic Ziggy Stardust. The image of the sexually ambiguous redhead with a glitter thunderbolt drawn across his face is still reproduced today. Whilst Ziggy Stardust might stand out as Bowie's finest hour, the shape-shifter has tried it all. From one-legged cat suits, to giant spiral flares, mod pin striped suits and hippy locks, it's hard to think of fashion trend that Bowie hasn't rocked. To top it off, his smash hit song 'Fashion' was released in 1980 and solidified Bowie's place in the fashion glitterati.
David Bowie // Band of Gypsies Velvet Flares

Nico
Heralded as the ultimate femme fatale, Nico was one of the most striking figures of her time. The model and singer's wide eyes were rarely seen without a dramatic kohl outline, and her tailored clothes were usually monochrome. When combined with her husky singing voice, Nico became a beautifully melancholic pin-up. Staple pieces for Nico included black polo necks and tailored jackets, a simplicity that caught the eyes of thousands of admirers, including Andy Warhol and John Kale.
 Nico // French Connection Pipa Top
FKA twigs
Describing the style of fashion's latest phenomenon, FKA twigs, is a challenge because the singer-songwriter-dancer has such eclectic taste. On stage she is often seen wearing very little, with her exquisite physique peeping through leather leotards or brass plated bras. However on the streets, FKA twigs has been spotted in everything from statement ponchos to a casual denim jacket and Dr Martens boots. Whilst it's hard to predict what twigs will wear next, every fashion lover is dying to know what she'll will wear if she marries her current beau, Robert Patterson.
FKA twigs // Harvey Faircloth Denim Jacket

Mick Jagger
The snake-hipped singer Mick Jagger may now be in his 70s, but his sense of style certainly isn't slowing down. A fashion icon throughout the ages, Jagger's style has changed with the tides of history. From floral shirts and flares in the '70s, to high-waisted skinny jeans in the 80s. Ever the eccentric, Jagger embodied dandyism and played with notions of masculinity, whilst always managing to ooze sex appeal with his signature swagger.
Mick Jagger // Paige Vertical Stripe Tunic
Shop all of your favourite retailers all in one place on Lyst.co.uk. The Rhapsody launches next month, so be sure to bookmark the-rhapsody.com.