The artist as feminist
In the past year we've seen some huge political shifts in the West –  in the UK with Brexit and in the US with the election of President Trump. In a world that feels increasingly unpredictable we need our political leaders to stand up and show that some things are non- negotiable: the human values of equality, fairness, and compassion that define our society, and the continual striving for global and local peace.
To mark the International Day of Peace on Thursday 21 st September, Nasty Women London x Creative Debuts will hold their first feminist-themed art exhibition in London. The money raised from the event will be donated to support Rape Crisis England and Wales and Women for Women International  to protect women's rights worldwide.
Forty-one international artists will be exhibiting at Nasty Women Exhibition: London, covering a broad range of disciplines such as photography, film, fine art, animation, embroidery, and sculpture. Among them is the world-renowned artist Helen Zughaib.
Zughaib is a Lebanese painter and multimedia artist now based in Washington, D.C. She moved to the United States to study visual and performing arts at Syracuse University. Zughaib uses gouache as her primary medium, but also creates mixed media installations. Zughaib's work comments on cultural identity, family life, refugee displacement in the Middle East, the Arab Spring, and the Lebanese Civil War. Her style combines pop art with Arab motifs of geometric patterns and floral arabesque. Her work can be found in many notable collections, such as The White House, World Bank, and Library of Congress. She has had over 20 solo exhibitions in the U.S. and Middle East.
Ahead of the private preview of her work alongside other feminist artists, I connected with Helen Zughaib to learn more about finding balance, getting past creative blocks, and alternative careers.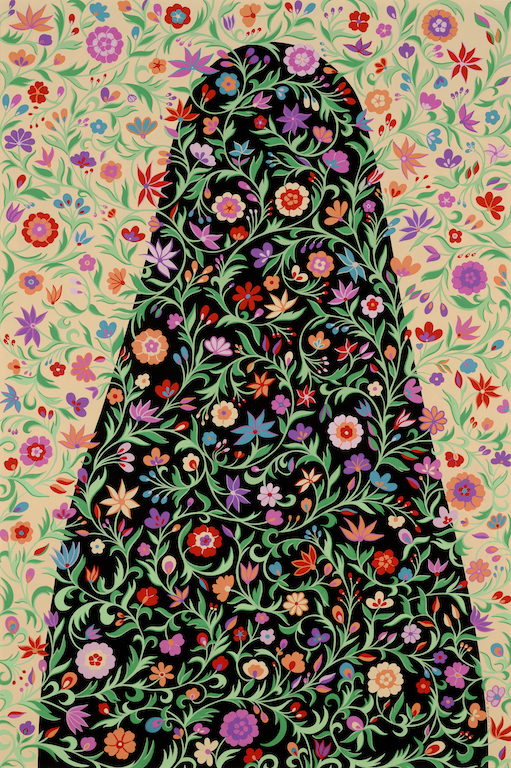 Can you describe your morning routine?
I'm not a morning person, so when I finally get up the first thing I do is feed Stumpy – my tail-less kitty! I have no kids so I've adopted several wonderful cats over the years! I then have a coffee (a whole pot), breakfast, phone call to my parents, quick email check, light a green candle for good blessings, then head over to my drawing board to start work.
Do you have a daily uniform – a go-to "look" for when you're working?
Yes! My Syracuse University sweatpants. This is where I got my BFA from the college of Visual and Performing Arts in Syracuse, New York. If someone is coming to my studio, it's normally something casual like jeans and a t-shirt. When I have to go to a meeting or appointment I normally like to wear something black and accessorize it with lots of rings.
Can you describe the aesthetic of your living space?
I painted my studio orange to remind me of the colours of the Middle East where I grew up. It has tons of books, plants, my artwork on the walls, and several installations from my previous shows. I also have lots of art supplies such as tubes of paint, paint brushes, and note books full of my inspirations and sketches. I often listen to jazz when I'm in there as I'm so tired of listening to the news. Upstairs, I have oriental carpets, a mirror collection, more plants, some self-portraits, and a homage to one of my favorite artists Frida Kahlo.
How do you find balance in your life?
I struggle with this to be honest. As an artist I support myself by selling my work, so majority of my time is committed to painting in order to produce works to sell. I often find myself weighing up my priorities, juggling tasks and family commitments. However, when I do find some me time I like to run and go to museums to get inspired. I'm lucky as I live in DC that has plenty of museums, and the art scene here is ever-growing which is so fantastic! I also think it's important to find time to pause and reflect on what you are doing so I try to ensure I make time for this daily. I think about my many blessings as well as thinking about those who are less fortunate. I take nothing for granted.
How do you define beauty? Where do you go to find it? 
I try to see the beauty everything. For example I hear beauty in the music I listen to when I work. The circuit I run is around the National Mall, the Lincoln Memorial, the George Washington monument. In the spring it's such a peaceful area full of ducks, geese and cherry blossoms. In the winter I see the beauty in the everyday including just simple things as sitting in a chair reflecting on memories such as dancing with my husband, or being in my studio with Stumpy my cat on my lap.
What was your first piece when you started painting?
I remember I was one of three winners for a contest in a magazine called Seventeen, a painting I did with me holding balloons floating off the page, transporting me back to where I had been evacuated from not long before in Beirut, Lebanon.
You are based in Washington, D.C. Does the location have an influence on your creative
process and aesthetic?
Washington is such an interesting place to live and work. We are surrounded by incredible monuments and landmarks, the Potomac River running through the city, and throngs of tourists from all over the world. We also have thousands of people coming here to protest one issue or another at any given time. The political climate is very intense and hard to ignore but it does serve as a source of creative inspiration. I like to use this inspiration to tell a story in my art by focusing on the impact of policies being implemented on people.
Have you ever encountered a creative block? How did you get past it?
I clearly remember having creative block some years ago after experiencing a very painful break-up, and moving out of my wonderful studio into a new flat. After unpacking every box and setting up my drawing board, I found that I was totally unable to paint. It had never happened to me before and I was completely terrified I would never be able to paint again. Finally after telling one of my close girlfriends, she suggested I travel to Spain with her and her sister. I decided to go and getting out of my environment, and away from these painful memories turned out to be a positive force that helped me overcome this block.
It happened again in 2006, when I was finally set to return to Lebanon for the first time since being evacuated during the civil war there 35 years earlier. I was incredibly excited to finally be going back until our trip was cancelled due to the war there in July that summer. Shocked and saddened by the tragedy of the war, and forced to cancel my trip, resulted in a very agonizing block that I couldn't snap out of. Finally one day, I focused on a black and white photograph in a newspaper article about the
war. It was of a woman crying holding a photograph of her dead son. That image triggered a series of paintings I call my "Weeping Women." This series has continued until today and is part of Nasty Women and Creative Debuts first exhibition in London this September.
What do you do to recharge your creative flow?
I usually get out of my studio and head to a museum or gallery to get re-inspired. I look out
for new work or hunt out my old favorites. I love hearing live music, especially outdoor
concerts in the summer that take place across the city in parks in DC.
Can you tell me of a time where you've needed to follow your gut during the creative
process?
I often find myself reappraising my work many times during the process of painting.
Stepping away, trying to see it with new eyes, and deciding when to actually stop working
on a piece is something I struggle with all the time. In my obsessive way, I can keep working
and working on a piece, but ultimately need to know when follow that inner voice and say it
is finished.
If you weren't an artist, what would you be doing?
I would be a singer or a veterinarian.
What do the next 12 months look like for you creatively?
I am blessed to have a busy year ahead! On 21 st September, I will join 40 other artists to exhibit my work as part of Nasty Women and Creative Debuts' exhibition in London. The money raised will go to support Rape Crisis UK and Women for Women protect women's rights worldwide. I then have several other exhibitions coming up in Jordan, DC, Dallas, and my first solo exhibition in Toronto in December.
Nasty Women is a global art movement that serves to demonstrate solidarity among artists. It draws together those who identify with being a Nasty Woman in the face of threats to roll back women's rights, individual rights, and abortion rights. With over forty fundraising art exhibitions taking place around the United States and abroad, Nasty Women Exhibitions also serve to support organizations defending these rights and to be a platform for organization and resistance.
Nasty Women X Creative Debut Private View
21 – 24 September 2017
The Black & White Building
74 Rivington Street
Hackney, London, UK
EC2A 3AY