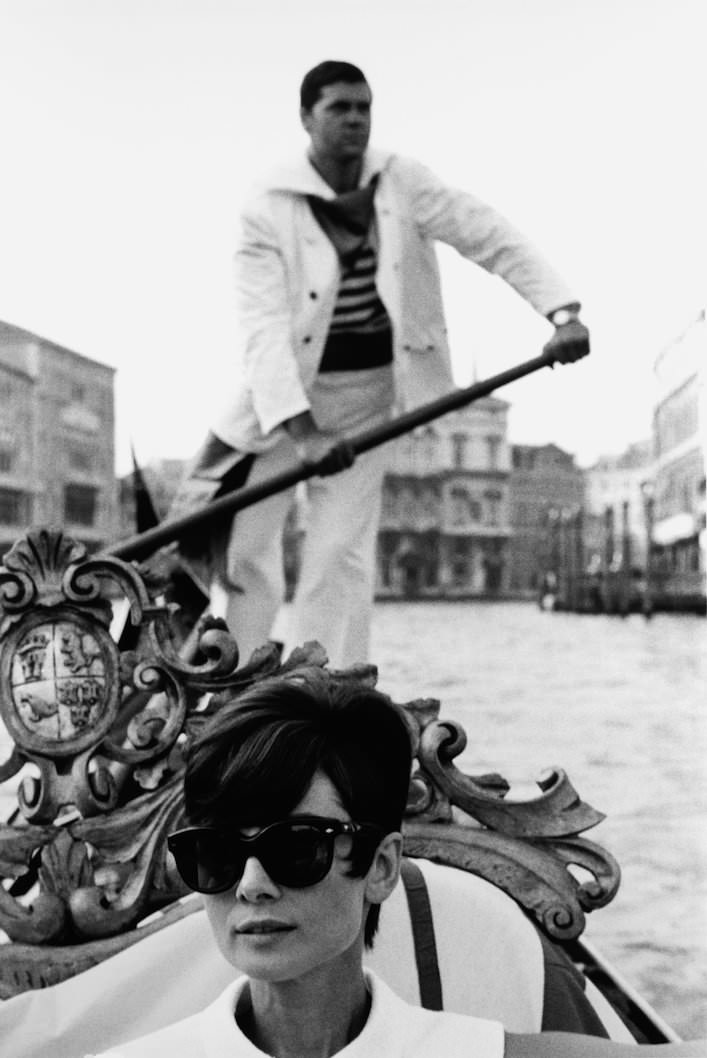 Audrey Hepburn in a gondola in Venice, 1965. 
Sun-soaked Elizabeth Taylor in the pool with her daughter, a chuckling Dean Martin in the kitchen on the phone to a friend, Ingrid Bergman, smiling, snapped through the doorway of her dressing room, Grace Kelly's 'Mona Lisa' smile, and other impossibly glamorous stars everywhere you look. Come along with Yul Brynner on fantastic photographic voyage.
Yul Brynner's reputation as one of the twentieth century's most charismatic and versatile actors is irrefutable, and those iconic eyebrows took us from The Ten Commandments to The King and I to The Magnificent Seven, to name but a few from his 60-year career. But his talent as a photographer has gone relatively unknown and unacknowledged.  Recently, I visited a new exhibition of some of Brynner's photographs at The Little Black Gallery, and interviewed Director and Co-Founder Ghislain Pascal:
MBP:  How did this exhibition come about?
GP:  The exhibition came about as my business partner, Tamara Beckwith, is friends with Victoria Brynner, Yul's daughter. Last year, Victoria published a book featuring Yul's pictures, and had several exhibitions in USA. So, when she started to look for a gallery in London she spoke with Tamara and of course we jumped at the opportunity to exhibit these wonderful photographs.
MBP:  There is a great fashion connection to the exhibition. Can you explain more?
GP:  Yes, Victoria Brynner, Tamara Beckwith, Doris Brynner, Valentino Garavani and Giancarlo Giammetti are all friends, so when Victoria and Doris asked Valentino and Giancarlo where to exhibit the photographs, they also recommended The Little Black Gallery.
MBP:  Personally, I wasn't aware that Yul Brynner was such a prolific photographer until recently.  Why has his photographic work been relatively unrecognized until recently?
GP:  Yes, until Victoria published his work last year, the world was unaware of his talent, although his friends and colleagues did know, as he always had his Leica camera with him, and by all accounts was a prolific photographer.
MBP:  Why is this exhibition important?
GP:  The exhibition is important as it captures a time and place in Hollywood history, the golden years, featuring the greatest actors of our time.  From Audrey Hepburn to Elizabeth Taylor to Frank Sinatra. He photographs them all since they were all his great friends.
MBP:  What is the significance of the photographs featured in the exhibition, and to a wider extent, those in the collection?  What do they show us?
GP:  The significance of these photographs is that they are not posed, but natural shots – as we would take photographs of our own friends and family, Yul has captured his friends and family that just happen to be the biggest names in Hollywood.  These are not studio approved photographs, or ones posed for magazines. I don't think we will ever see another set of pictures like this from this period in Hollywood.
MBP:  Are there any plans for a permanent exhibition, or are the photographs permanently housed somewhere and on display?
GP:  There are no plans for a permanent exhibition, but Victoria does have plans to keep on exhibiting the pictures around the world. And for those that cannot see the exhibitions then there is always the book which can be bought on Amazon.

MBP:  Where does Yul Brynnner fit into the canon of 20th century photography?
GP:  Having secured his place in Hollywood history, I believe that thanks to the hard work of his daughter, his place in 20th century photography is now also guaranteed.
Yul Brynner: A Photographic Journey' is at the Little Black Gallery, London SW10 until February 11; +44 (0)20 7349 9332, or visit thelittleblackgallery.com